With the hybrid workplace now a norm, how do you equip sellers with the skills to be successful in a remote selling environment? And how do you retain and grow talent in the era of the great resignation?
We surveyed Heads of Sales and Learning and Development Managers across the globe to learn how sellers have adapted to a hybrid selling environment, and how a new level of business savvy and sales agility is crucial to succeeding in a post COVID world. 
Download the free report. 
Enter your details to download the report
Wyda is an immersive business simulation game, purpose-built to build business acumen and business savvy. It's virtual, fun and engaging and designed to produce more confident, well-rounded business professionals. Wyda reimagines business acumen and makes learning it accessible to everyone.
The complexity of modern selling
The modern selling environment has become more complex thanks to empowered buyers, the hybrid workplace, increasing numbers of stakeholders involved with misaligned objectives and the fast pace of businesses change.
This study examines the role of the professional seller in the face of a changing business environment and looks at the key attributes of high-performers. We also consider how well sales learning and support tools are valued by sellers, and what approaches they deem most effective.
The report also considers the concept of the "Agile Salesperson", and what this means for sellers in the modern day environment.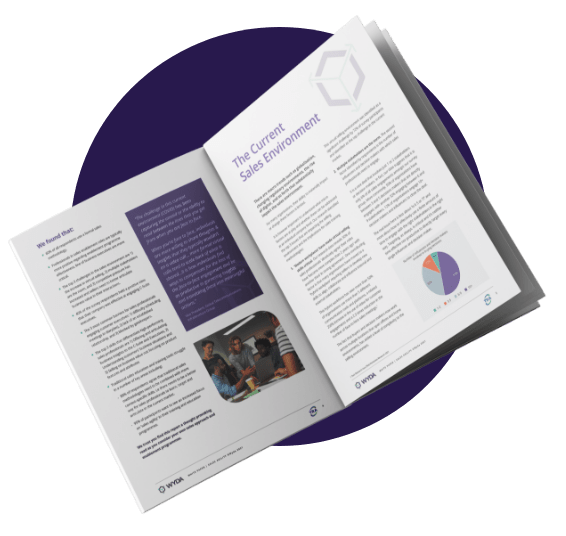 What Wyda players have said
"It's making me understand my own organisation more, what all the C-Level people have to do"
"I really enjoyed it. It gave me great insight into the different responsibilities C-suite execs have and how important it is they all work together as a team."
"It is so engaging – by far the best training I have done."
"Very challenging having to collaborate effectively and make business critical decisions."
"Gamification of business acumen – really enjoyed playing the roles of EVP, CEFO, CMO, COO, VP of Customer Contact Centre, Head of Procurement, CHRO and CEO – phew! One of the best trainings I have done in quite some time."
"Over the past few months I played the role of various executives in an organisation and experienced highs and lows in each role, difficult decision making, stakeholder management and change management in a highly engaging gamified business acumen training experience. Big thank you to [company] and the team at WYDA for the opportunity to be part of such an incredible experience"
"I found it great fun and a very engaging way to learn in this modern age of digital. After spending time as a virtual CEO, COO, CMO, CIO I have greater clarity on my own strengths and opportunities. Thank you so much for this opportunity to enhance my business insight and skill."
"This game has been so much fun but at the same time there are pressure points"
"Unlike a lot of other training that I do. Very engaging."
"Quite addictive. want to see what happens now….i quite like the approach of the exercise cos, if we were reading dry bullet points…it would be … dry!"
"This game is really good – practical, insightful."
"It was great, very interactive"
"I'm really enjoying it and the support from your team has been fantastic."
"How I interact with customers has changed. I feel like I understand their challenges better. I know their business and how to help them more to meet my outcomes of increased sales and help them in the process."
"I found myself in roles and scenarios that were completely new to me. I found that challenging but I loved the challenge and the knowledge it has provided me."
Ready to get a Wyda perspective?