Download the Sales Agility Report
Wyda drives engagement, learning and ultimately elevated business savvy to be applied in the real world.
In this fast-paced game, the player is absorbed with immediate decisions that are required, plus they'll get real time feedback on their choices from other characters in the game.
Just as in the real world, there will be many interruptions, distractions that add a bit of humour. Players need to decide what's just noise and what are the pressing issues they need to address.
They'll be immersed in video conferences, engaged by messages and audio meetings, which reveal how the human side of business plays out.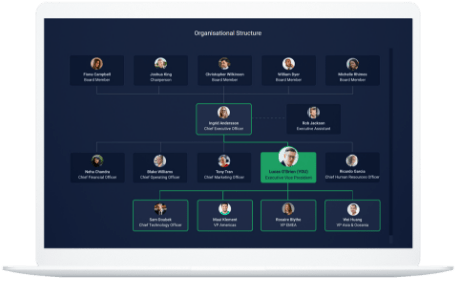 Walk in the shoes of 9 execs
The players sign into the dashboard of 9 different executives and learn how each part of the business functions by walking in their shoes. They'll learn who their teams are, how they are measured, what their priorities are and what different language or jargon they use.
Players will learn 5 core business pillars in each context of each role:
Strategy
Operations
Financials
People
The external environment
The game reveals so much more than how to understand the financial statement. They'll experience how these skills intersect, apply them immediately and determine the success or mediocrity as a result.
This allows players of vastly different levels of experience and education to all to be challenged- intellectually, and emotionally.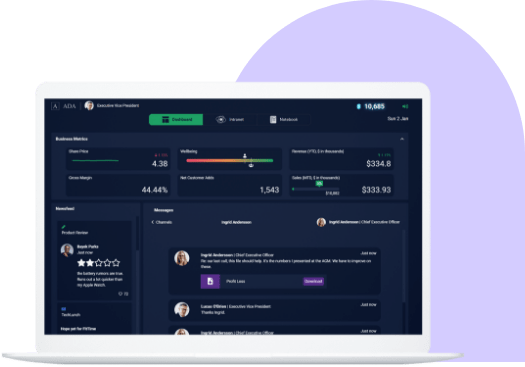 What Wyda players have said
"It's making me understand my own organisation more, what all the C-Level people have to do"
"I really enjoyed it. It gave me great insight into the different responsibilities C-suite execs have and how important it is they all work together as a team."
"It is so engaging – by far the best training I have done."
"Very challenging having to collaborate effectively and make business critical decisions."
"Gamification of business acumen – really enjoyed playing the roles of EVP, CEFO, CMO, COO, VP of Customer Contact Centre, Head of Procurement, CHRO and CEO – phew! One of the best trainings I have done in quite some time."
"Over the past few months I played the role of various executives in an organisation and experienced highs and lows in each role, difficult decision making, stakeholder management and change management in a highly engaging gamified business acumen training experience. Big thank you to [company] and the team at WYDA for the opportunity to be part of such an incredible experience"
"I found it great fun and a very engaging way to learn in this modern age of digital. After spending time as a virtual CEO, COO, CMO, CIO I have greater clarity on my own strengths and opportunities. Thank you so much for this opportunity to enhance my business insight and skill."
"This game has been so much fun but at the same time there are pressure points"
"Unlike a lot of other training that I do. Very engaging."
"Quite addictive. want to see what happens now….i quite like the approach of the exercise cos, if we were reading dry bullet points…it would be … dry!"
"This game is really good – practical, insightful."
"It was great, very interactive"
"I'm really enjoying it and the support from your team has been fantastic."
"How I interact with customers has changed. I feel like I understand their challenges better. I know their business and how to help them more to meet my outcomes of increased sales and help them in the process."
"I found myself in roles and scenarios that were completely new to me. I found that challenging but I loved the challenge and the knowledge it has provided me."
Ready to get a Wyda perspective?